The Prodigal Son: Still life in slow motion
A blue decanter for the birds of paradise. He thinks they are actually birds and when the water evaporates he doesn't say the flowers have wilted; he tells you, instead, that the birds have died of thirst. This is as close as he comes to a vision of heaven though it's less than mythical, and fragile as a hollow bone. He hopes to find—days later, when he returns—the various components settled, like...
Short Talk on Orchids
by Anne Carson We live by tunneling for we are people buried alive. To me, the tunnels you make will seem strangely aimless, uprooted orchids. But the fragrance is undying. A Little Boy has run away from Amherst a few Days ago, writes Emily Dickinson in a letter of 1883, and when asked where he was going, he replied, Vermont or Asia. —Plainwater (Knopf, 1995)
"Poetry should be written the way adultery is committed: on the run, on the sly, during the time not accounted for. And then you come home, as if nothing ever happened. → Pick a piece of wood floating in the river and follow it down the current with your glance, keeping the eyes constantly on it, without getting ahead of the current. This is the way poetry should be read: at the pace of a...
"Raise your words, not your voice. It is rain that grows flowers, not thunder."
– Rumi
Because the story of our life becomes our life Because each of us tells the same story but tells it differently and none of us tells it the same way twice — Lisel Mueller, Why We Tell Stories
"Always try to keep a patch of sky above your life." ― Marcel Proust, Swann's Way
The hills the lakes the shorelines only three thousand years old. Some faces have this same settled freshness every time. Few voices do. I have been trying to walk out of my body all my life. The flesh doesn't belong to itself. Not a breath we can understand so why this trust? Understanding itself is a shape-shifter. Even if I must accept your mortality, I stay in love like nowhere else I...
I broke your heart. Now barefoot I tread on shards. — Vera Pavlova
《远和近》 你 一会看我 一会看云 我觉得 你看我时很远 你看云时很近
After a black day, I play Haydn, and feel a little warmth in my hands. The keys are ready. Kind hammers fall. The sound is spirited, green, and full of silence. The sound says that freedom exists and someone pays no tax to Caesar. I shove my hands in my haydnpockets and act like a man who is calm about it all. I raise my haydnflag. The signal is: "We do not surrender. But want peace." The music is...
Happy Together by Misty Miller (Burberry F/W 2013...
"Never mind. Arrange whatever pieces come your way."
– Virginia Woolf in her diary, 5 September 1925
紅螞蟻 - 愛情釀的酒 作詞:紅螞蟻 作曲:紅螞蟻 編曲:屠穎 有人告訴我 愛情像杯酒 他還告訴我 是杯特製的酒 有人告訴我 愛情像杯酒 他說喝它吧 別皺眉頭 因為它燙不了你的舌 也燒不了你的口 喝吧 別考慮這麼多 喔 它燙不了你的舌 也燒不了你的口 喝醉吧 不要回頭 喝愛情釀的酒
"If a fish is the movement of water embodied, given shape, then a cat is a diagram and pattern of subtle air." — Doris Lessing, On Cats
"The changes were not necessarily corrections of the translation; more often they were revisions, alterations of his own text. Calvino's English was more theoretical than idiomatic. He also had a way of falling in love with foreign words. With the Mr. Palomar translation he developed a crush on the word feedback. He kept inserting it in the text and I kept tactfully removing it. I couldn't...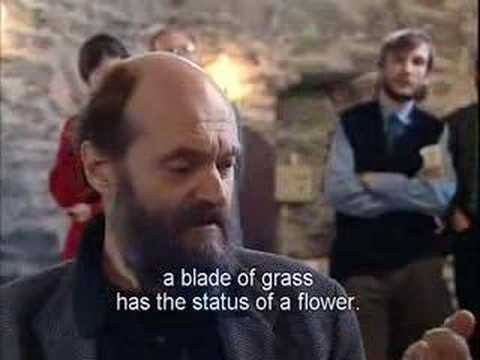 Fur Alina - Arvo Pärt
"Tereza knew what happens during the moment love is born: the woman cannot resist the voice calling forth her terrified soul; the man cannot resist the woman whose soul thus responds to his voice." ― Milan Kundera, The Unbearable Lightness of Being
"When we want to give expression to a dramatic situation in our lives, we tend to use metaphors of heaviness. We say that something has become a great burden to us. We either bear the burden or fail and go down with it, we struggle with it, win or lose. And Sabina - what had come over her? Nothing. She had left a man because she felt like leaving him. Had he persecuted her? Had he tried to take...
1 tag
Variations For The Healing Of Arinushka - Arvo...
Arvo Pärt's technique in his own words: "I have discovered that it is enough when a single note is beautifully played. This one note, or a silent beat, or a moment of silence, comforts me. I work with very few elements —with one voice, two voices. I build with primitive materials —with the triad, with one specific tonality. The three notes of a triad are like bells and that is why I...
"I think the death of domestic animals mark the sea of changes in our lives. Think how things were, when things were different. There was an animal then, a dog or a cat, not the one you have now, another one. Think when things were different before that. There was another one then. You had almost forgotten." — Miller Williams, Animals
"Work stops at sunset. Darkness falls over the building site. The sky is filled with stars. "There is the blueprint," they say." ― Italo Calvino, Invisible Cities
"The inferno of the living is not something that will be; if there is one, it is what is already here, the inferno where we live every day, that we form by being together. There are two ways to escape suffering it. The first is easy for many: accept the inferno and become such a part of it that you can no longer see it. The second is risky and demands constant vigilance and apprehension: seek and...
"I am in the mood to dissolve into the sky."
– Virginia Woolf
This land like a mirror turns you inward And you become a forest in a furtive lake; The dark pines of your mind reach downward, You dream in the green of your time, Your memory is a row of sinking pines. Explorer, you tell yourself, this is not what you came for Although it is good here, and green; You had meant to move with a kind of largeness, You had planned a heavy grace, an anguished dream....
"In the first few seconds an aching sadness wrenched his heart, but it soon gave..."
– Mikhail Bulgakov, The Master and Margarita
"Unless you're a poet or an otter or something supernatural You'll drown, dear. You'll drown Any Greek can get you into a labyrinth But it takes a hero to get out of one What's true of labyrinths is true of course Of love and memory. When you start remembering." — Jack Spicer, Any fool can get into an ocean…
"Breathing, looking, walking, she felt nothing but desire. The sound of the sea..."
– Anton Chekhov, "The Duel," trans. Constance Garnett
"Through the ear, we shall enter the invisibility of things."
– Edmond Jabès
Forgetting someone is like forgetting to turn off the light in the back yard so it stays lit all the next day. But then it's the light that makes you remember.  - Yehuda Amichai